What should Rapid City spend money on? Mayor talks budget and citizen survey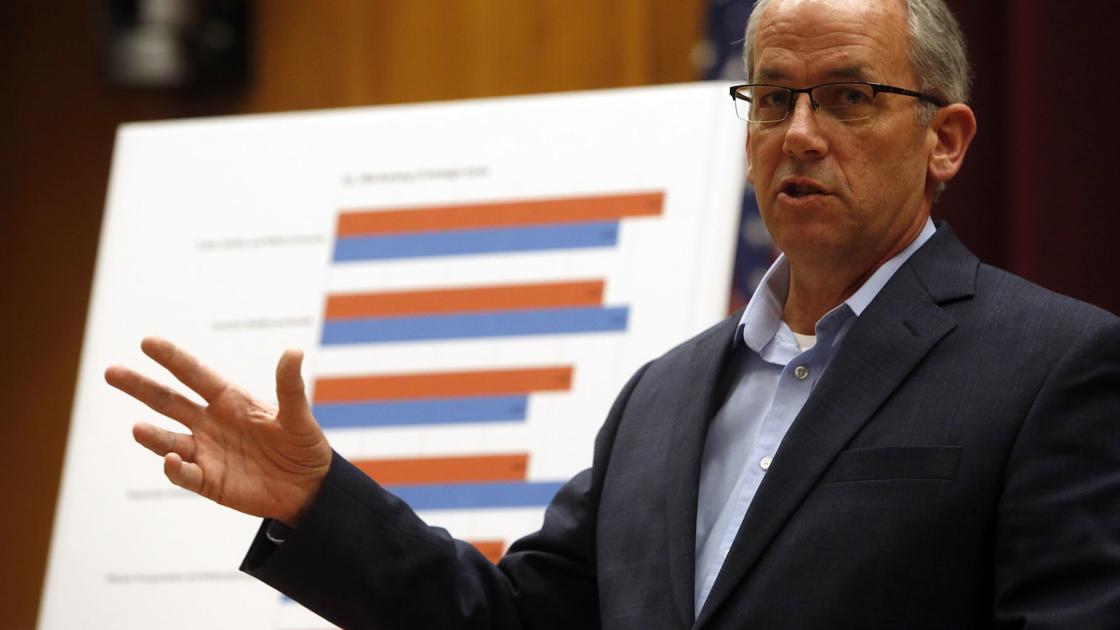 Police and fire services, street repair/maintenance, and street cleaning/snow removal are the most important city services provided to Rapid Citians, according to a survey of more than 1,500 residents.
The results from the city's Citizen Priority Survey, which was completed late last year and drew responses from 1,665 residents and nine of the 10 acting City Council members, were detailed during Mayor Steve Allender's "Rapid City Progress Report" presentation Wednesday morning at City Hall.
The mayor also discussed other notable city actions within the past year and ongoing efforts for the future during the presentation. Allender spoke about the city's priority-based budgeting process, the looming Barnett Arena decision, expected changes in the downtown parking system and the city's sales and property tax report.
But at the presentation's start, Allender chose to focus on the budgeting process and citizen survey, which was mailed to about 3,000 randomly selected Rapid City households and was also available to be completed online. Overall, 80 percent of the respondents were homeowners and 75 percent have lived in Rapid City for more than 10 years, Allender said.
Asked how they would allocate an imaginary $1,000 in tax dollars to various city departments and services, respondents, on average, said they'd allocate $146 to "police services," $137 to "street repair and maintenance," $127 to "fire services," and $78 to "street cleaning and snow removal."
City Council members' responses were separated from Rapid Citians and came in at $131, $138, $128, and $58, respectively, for the four aforementioned services.
City services with the lowest imaginary allocations by Rapid Citians included "public transit system" at $45, "land use, planning and zoning" at $33, "code enforcement" at $33, and "building permits and inspections" at $30.
Allender interpreted those figures as a sign that citizens favored funding such services with user fees rather than tax dollars but made clear that the results, while providing data for the city's 2018 budget process, would not dictate staff budgeting decisions.
"This is not a policy statement," he said to a group of about 20 attendees including alderwomen Lisa Modrick, Laura Armstrong and Becky Drury.
As part of the ongoing efforts to fully implement the priority-based budgeting process in 2018, Allender noted that the total number of city programs had been reduced from 1,136 to 817. Each program was also scored and ranked based on their necessity, importance and the possibility that other area organizations could provide the service if the city did not.
This March, Allender expects the priority-based budgeting scores and data to be made available to the council and public in an effort to guide the 2019 budget.
Providing an update on the city's ongoing planning efforts for the future of Barnett Arena, Allender said the city had hired Stone Planning LLC to complete an up-to-date feasibility study for the project and was also working with TEGRA Group, a commercial real estate consulting firm, to serve as the city's representation throughout the project.
"It doesn't take much for other people's interests to outweigh the city's interests, especially for a major project," Allender said of the reason for hiring TEGRA.
Requests for qualifications for architecture firms and construction managers-at-risk — which act as the sole point of responsibility for the project delivery, including any costs of the project that go over-budget — have also been completed and received, Allender said, with requests for proposals now being submitted ahead of a Feb. 12 deadline.
"That budget will be the budget," he said about the project. "We have virtually ensured we will eliminate the risk of going over budget."
"We're getting this work done so we don't have to go back to ground zero depending on what the choice is either by the City Council or, if referred, by the citizenry," Allender said. "We'll be ready to pursue either option regardless of what the decision is."
The objective, Allender said, is to stimulate increased turnover in the central business district. Currently, Allender believes the parking system — with free three-hour parking in the downtown district and metered parking on the outskirts, is backwards. In the past, Allender has called the funding of the city parking fund, which is primarily supported with leased parking spot payments and the levying of fines against violators, "ethically wrong."
Later, he lamented the fact that downtown residents, employees and business owners often "camp" their cars in downtown spots, moving their cars every few hours to avoid a ticket but clogging the area and reducing the availability of parking for customers.
Once the study is made public and the recommendations are set, Allender said the city will put out requests for qualifications for development of the vacant lot at the southwest corner of Fifth and St. Joseph streets, home to the failed President's Plaza development.
Sales and property tax report
Rapid City officials are estimating an overall increase in sales tax collections in 2017 of 2.31 percent when compared with 2016. Through November 2017, sales tax collections were up 2.5 percent compared with 2016. The city had originally projected a 2 percent growth in sales tax collections. Additionally, property taxes for 2017 totaled about $16.3 million compared with $15.6 million in 2016.