Pharma Investors Suffer From Tax Myopia
It's all about tax rates in the pharma world.
On Tuesday and Wednesday, respectively, Pfizer Inc. and Eli Lilly & Co. took earnings-day share price drubbings after reporting positive-to-innocuous results — most likely because their projected 2018 effective tax rates compared poorly with AbbVie Inc.'s shockingly low forecast last week.
Amgen Inc. forecast a lower-than-expected tax rate Thursday evening but also reported a surprising and rare earnings miss. Merck & Co. Inc., on the other hand, beat analysts' expectations for its fourth-quarter earnings and 2018 sales guidance Friday morning. Its tax rate forecast, however, came in on the high side.
Guess which shares are up in early trading.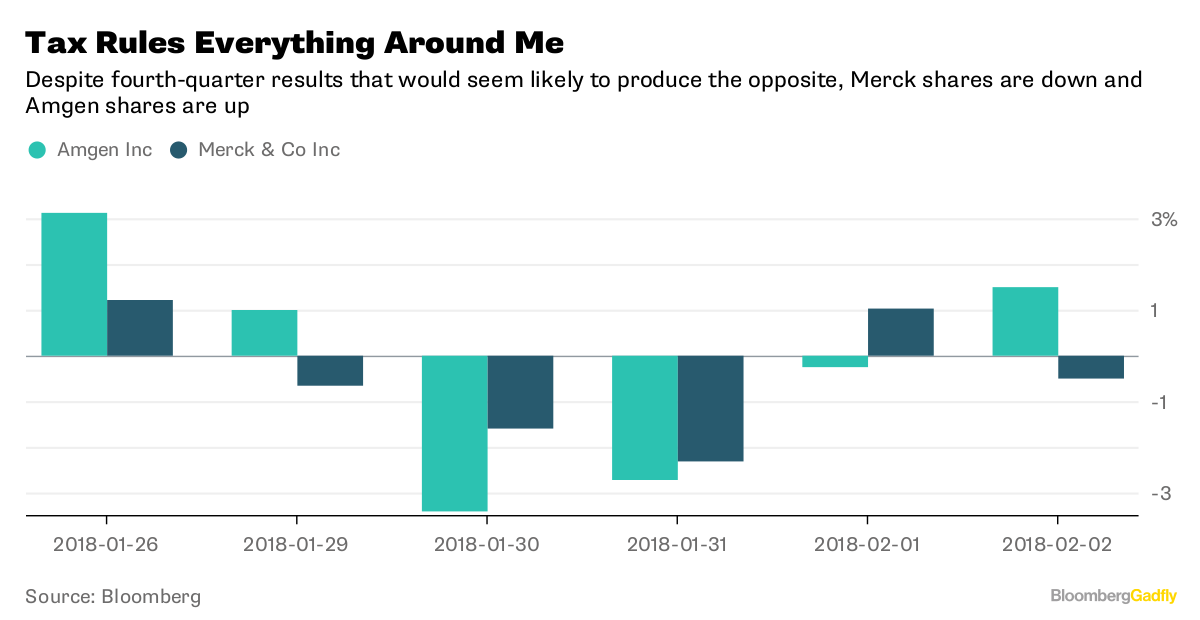 Merck has the highest tax rate forecast among U.S. based big pharma firms so far, and Amgen beat everybody in biopharma except AbbVie in a race to the tax-guidance bottom.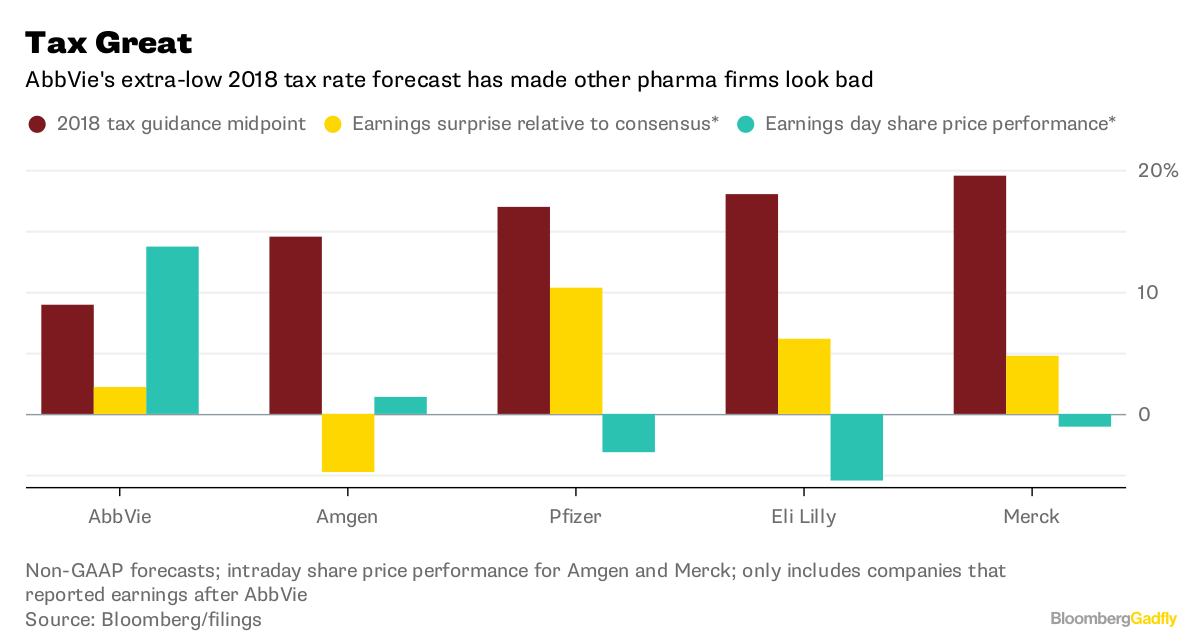 But enough is going wrong at Amgen that it perhaps ought to have negated that news. Stalling sales of older medicines and disappointing growth for its cholesterol drug Repatha led to the firm's first earnings miss and annual revenue decline in several years.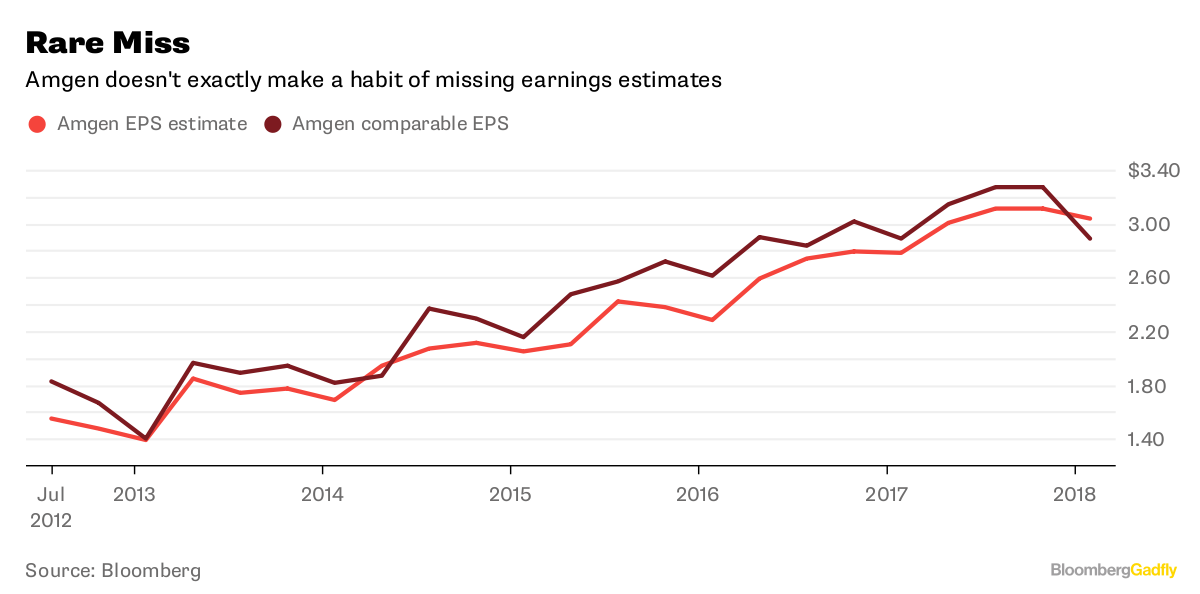 The prospects for a near-term turnaround seem limited. Things are only going to get worse for the company's older drugs, and there are few signs of a long-anticipated uptick in Repatha sales. The firm's next significant launch is probably going to be migraine drug Aimovig, which will have to fight it out with multiple similar competitors.
CEO Robert Bradway said on Thursday's earnings call that "we think revenue growth will be more tightly linked to volume growth than was the case historically." Translated from pharma-ese, that means that Amgen likely won't be raising as many prices on aging drugs or that such tactics won't work as well. That heaps even more pressure on its new medicines.
But a low tax rate and shareholder goodies in the form of a $10 billion buyback boost and meaty dividend hike — as well as a winking nod at possible large-scale M&A — salve a lot of ills.
At Merck, on the other hand, everything but the tax rate looks pretty good. In addition to the earnings beat and solid guidance, sales of the company's key cancer drug Keytruda continued to soar. Keytruda may have an even brighter 2018 ahead — a critical trial pairing the medicine with an older chemotherapy succeeded in lung cancer patients in January.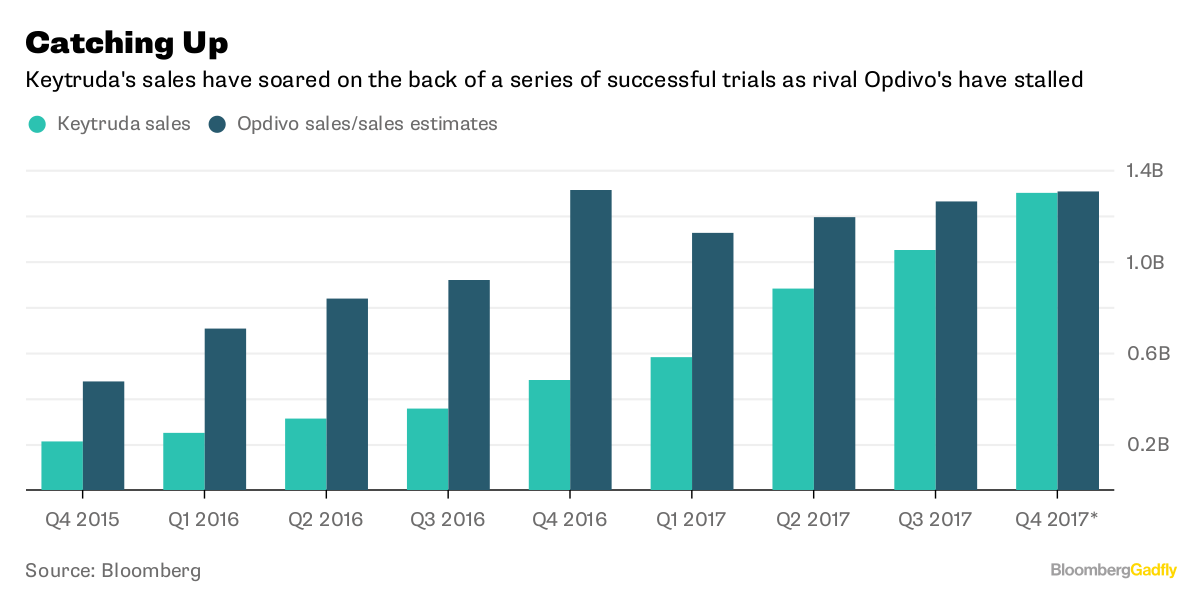 Investors may have been disappointed by the lack of further detail on that trial on Friday's earnings call. And the results of a different combination trial in lung cancer from rival Bristol-Myers Squibb Co. are due soon. But for now at least, Keytruda is in an exceptionally valuable pole position that Merck is spending aggressively to maintain; the company said on its conference call that there are 700 registered clinical trials involving the drug, 400 of them testing it in combination with other medicines.
Perhaps once tax-cut fever abates a bit, investors will manage to focus on that instead.
This column does not necessarily reflect the opinion of Bloomberg LP and its owners.
To contact the editor responsible for this story:
Daniel Niemi at dniemi1@bloomberg.net